Bursa DAY TRIP from ISTANBUL
Are you looking for a destination that worth visiting close to Istanbul ? Do you have one full day of available time? Do you enjoy history and nature? Than daily Bursa trip from Istanbul is a perfect match for you. We will come pick you up at your hotel and in less than two and a half hours will be arriving to Bursa.
Thanks to its historical heritage, Bursa provides to its guests many places to visit. Grand Mosque of Bursa,  Koza Inn, Coppersmith Bazaar, Grand Bazaar, Osman Gazi & Orhan Gazi tombs, Bursa Castle, Green Mosque & Mausoleum, Cable Car, Cumalıkızık Village, Old Tree (ulucinar) and many more…
Bursa Day Trip Contact Form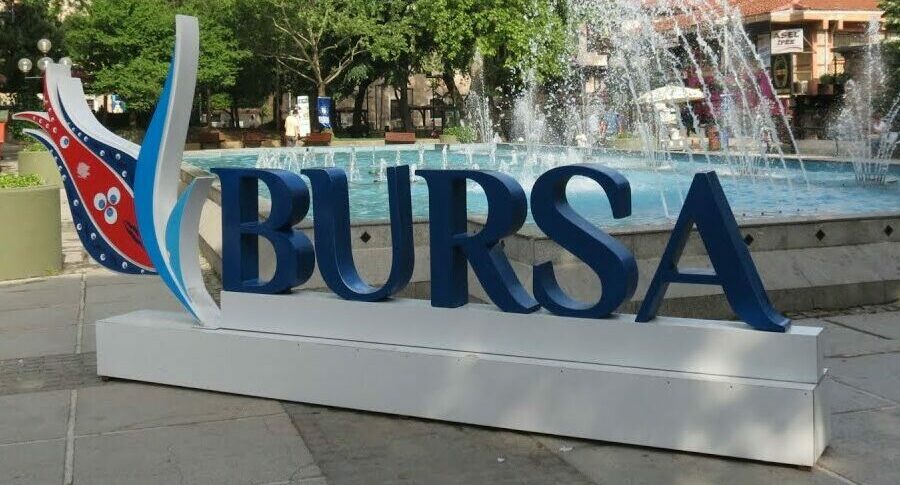 Called as "God's Gift" during the Ottoman period, Bursa was the first major capital of the empire. Today, the city is the home town of 3 million people. With its streets full of history Bursa is one of the popular destinations among travelers.
In addition to its historical significance which makes Bursa a UNESCO World Heritage Site, it is a leading city in the field of industry. 
Although daily Bursa tour from Istanbul has a template itinerary, we set the actual tour program together with you.  Thus we take into account your preferences when we create your personalized itinerary.
Some of the "must to see" places in Bursa are as follows.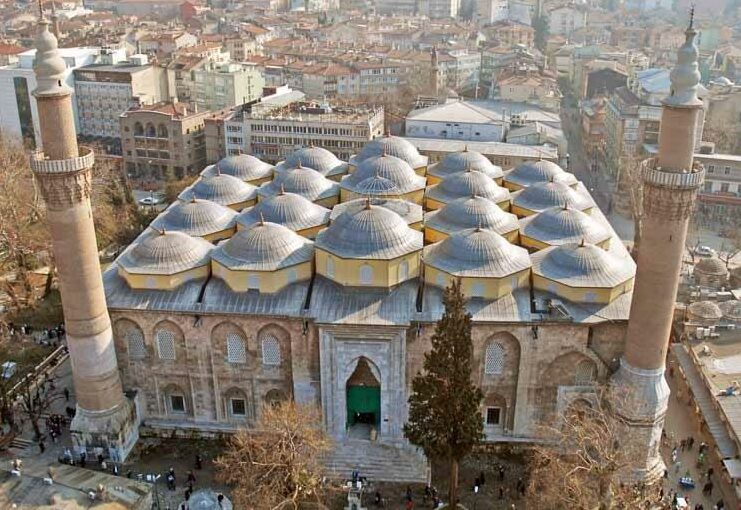 Built between 1396 and 1399 by the order of the Ottoman Sultan Beyazit I, Grand Mosque of Bursa is known as one of Islam's most famous sanctuaries. Built in Seljuk style, this 600 years old mosque  has 20 domes and 2 minarets.
Although its structural features are enough to call it a masterpiece, the real fascinating part of the mosque is the interior. 192 monumental wall inscriptions written by the famous Ottoman calligraphers of that period adorn the interior of the mosque. Those calligraphy works include verses from the Quran, hadiths, 99 names of Allah as well as the different names for Prophet Muhammad and notable Islamic scholars.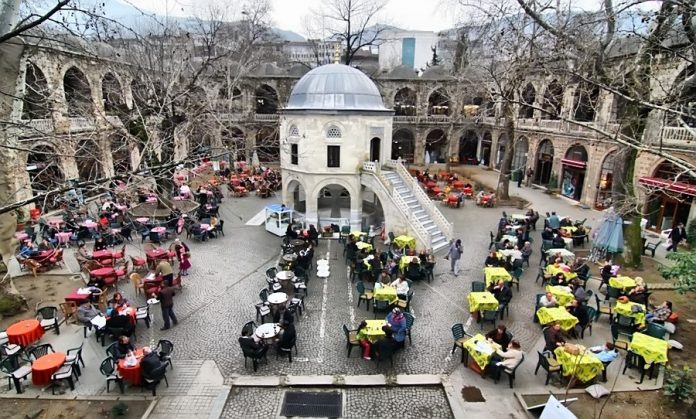 The inn was erected in 1492 by Bayezid II in order to finance his mosque and madrasa under construction in Istanbul. Koza Inn has two floors with 45 rooms on the ground floor and respectively 50 rooms on the top floor. The main door located on the northern side of the building is made of stone and decorated with carvings in relief. In the center of the central courtyard there is a masjid (small mosque). Beneath the masjid  an ablution fountain is located.
Today, Koza Inn is the center of famous sericulture products of Bursa. Therefore you may find many shops selling beautiful items such as scarfs made of silk or silverware.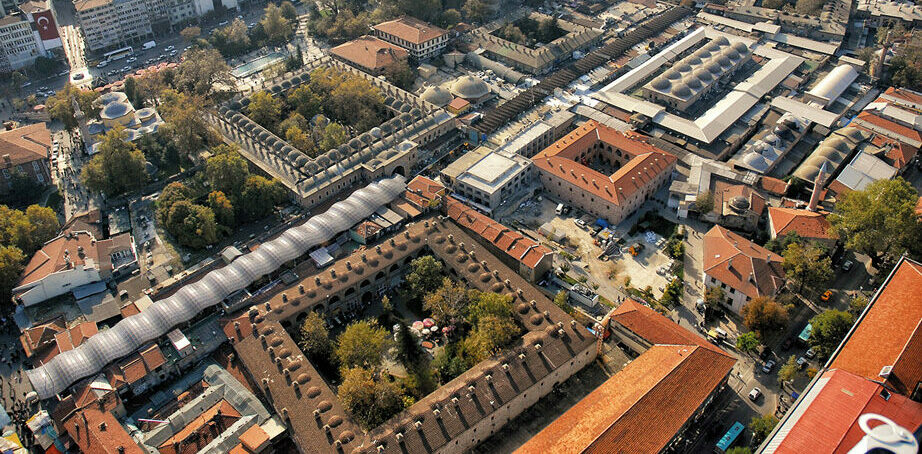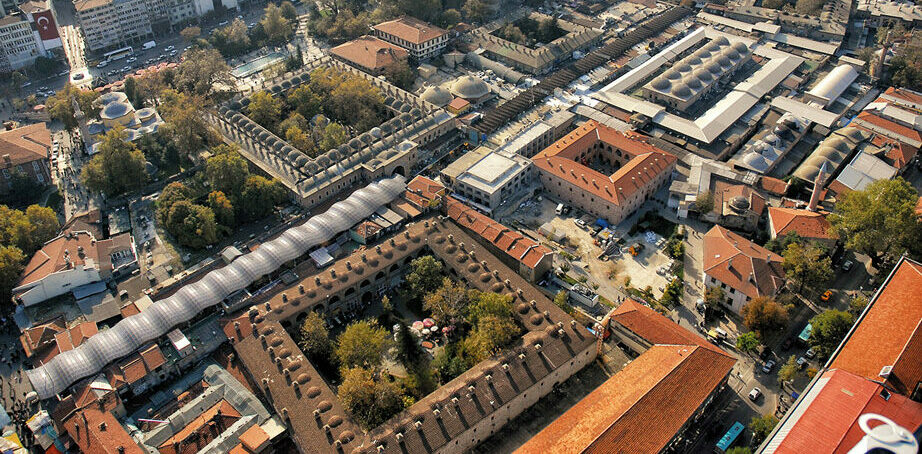 Located next to each other Grand Bazaar, Long Bazaar and Coppersmiths Bazaar crate a historical atmosphere for the visitors. Obviously that's the best spot for the ones who want to view and shop local products of Bursa. Silk, copper, clothes and various textile items are just some of the options that worth seeing.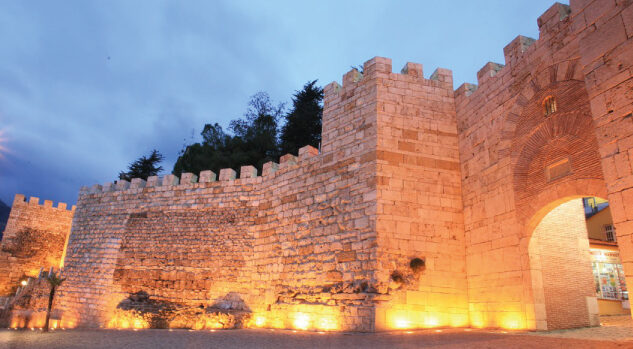 Bithynians who settled in the geography of Bursa in the 7th century BC  built the Castle in the 1st century BC. Bursa Castle, one of the oldest fortresses in history hosted Roman, Byzantine and Ottoman Empires.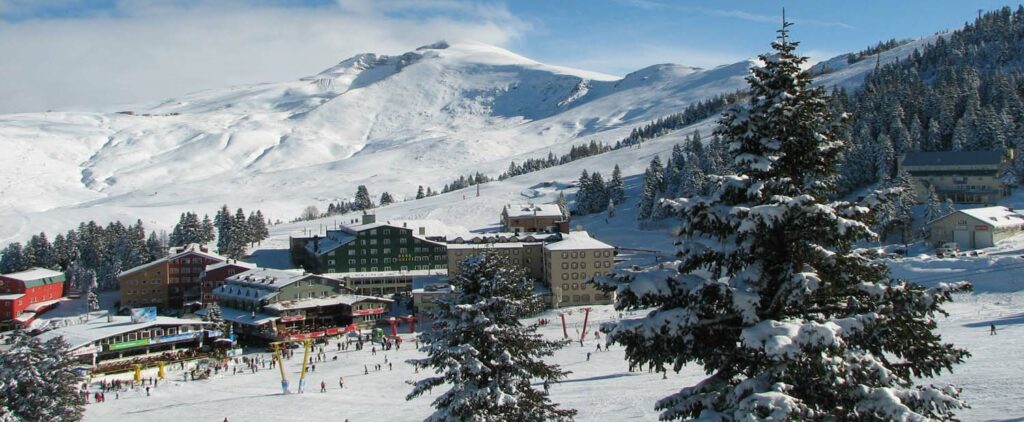 Located in the Uludag National Park, Mount Uludağ is a ski resort with 2.550 m altitude. The mountain is worth visiting not only in winter time but also in summer time to have a lovely day.